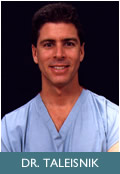 Dr. Taleisnik  was born in Rochester, Minnesota in 1962, where his father Julio Taleisnik completed his orthopedic residency. Julio went on to become one of the leading hand surgeons in the world, and has been in practice in Orange County for over 30 years. Dr. Andres, as he is known in the office, joined his father's group in September 1997 after completing extensive and rigorous training in plastic surgery and hand surgery.
Dr. Andres attended Princeton University, where he majored in Biology. He graduated from Princeton in 1984 with a 3.9 GPA, receiving Summa Cum Laude honors. He also received Highest Honors in the Department of Biology and garnered the Senior Book Prize for his Thesis work. During the summers, he was employed in the laboratory of Dr. Alan Gazzaniga, a prominent local cardiothoracic surgeon, and also worked at Disneyland.
After graduating from Princeton, Dr. Andres returned to Southern California, where he attended medical school at UCLA. He was exposed to numerous innovative and nationally recognized plastic surgeons during medical school, such as Malcolm Lesavoy, Harvey Zarem and Timothy Miller. These outstanding surgeons and teachers prompted Dr. Andres' fascination with plastic surgery. Dr. Andres then completed six years of training in surgery at UCLA, including general and vascular surgery, pediatric surgery, chest surgery, trauma surgery, cancer surgery and plastic surgery. He completed a year as Chief Resident in 1993-1994. During his surgery residency, Dr. Andres performed research in the plastic surgery laboratory of Dr. William Shaw, and received the Plastic Surgery Educational Foundation Research Fellowship award, one of four $30,000 grants awarded nationally each year. He also spent time assisting in the reconstructive surgeries for burned children at Shriner's Hospital in Los Angeles.
After completing general surgery training, Dr. Andres was selected to continue his training in plastic surgery at UCLA, one of the top three programs in the country. He received extensive experience in all facets of plastic surgery, including craniofacial, pediatric, microsurgery, oncologic, hand and aesthetic (cosmetic) surgery. He had the opportunity to learn from some of the top plastic surgeons in the world, including those that are the "Plastic Surgeons to the Stars" of Hollywood and Beverly Hills.
In 1996-1997, Dr. Andres and his growing family traveled to San Antonio, Texas to study Hand and Microsurgery at the renowned Hand Center of San Antonio under David Green, M.D. Following that year of wonderful experience, Dr. Andres returned home to Orange County to stay.
We recently caught up with him to pick his brain about plastic surgery and marketing in the digital age.
1) Can You Start off By Telling Us Your Name.
Dr. Andres Talesnik
2) How Long have you been practicing?
I started practicing in 1997.
3) What made you want to become a Plastic Surgeon as opposed to being another sort of Doctor?
It was amazing to me to be able to help people with devastating problems and restore them back to normal life.
4) What have you been noticing in marketing trends for Plastic Surgeons over the last few years?
Well, of course, no one used to have a website. In fact, to my knowledge, I was among the first. Now, everyone not only has a website but also uses social media such as Facebook and Twitter. Video is also becoming increasingly popular.
5) What would you say has been the most effective marketing for your practice so far?
It's all about having a website that connects with people. When you combine that with a solid SEO marketing strategy that makes for a winning combinination for patients getting the information they seek.
6) So far would you say that the internet has helped grow your practice at a steady pace in comparison with previous marketing in the past.
Yes, Internet has been tremendously helpful.  We draw patients from all over but a lot from Riverside, San Bernardino and the Inland Empire come to us for fantasitic results.
The location-specific Google search results have been great.
7) What are you currently doing to stay ahead of the curve in terms of marketing?
I am currently building a new website, New content new look mobile friendly. Interfacing will be smoother and easier.
I think the responsive design is an awesome new aspect of web design, and employing it will surely help new patients looking for the right information.
8) I know that most Doctors that we talk to say that the Internet is the future of their practice in terms of marketing… Why do You think so many plastic surgeons are betting their practice on that today?
I keep eggs in many baskets. Internet is a very direct way to reach people. You can give them a lot of content via both web and video and educate them about aspects of plastic surgery that they may not be aware of.
9) What would you say is your five year plan for marketing your practice via the Internet? What are the technologies and services you'll be investing in to stay ahead of others.
I've heard that Instagram is becoming increasingly popular.
10) If you could give the other plastic surgeons that will be reading this article one piece of marketing advice that would help them get more patients…. what would that be?
The single most important thing: Degree of personalized response and attention. When you as the doctor email the patient back yourself, that patient is much more likely to come to you.
Thank you for your time today Dr. I know the Audience of "I Love Plastic Surgery" is going to love this and that its really going to help a lot of them out doctors and patients alike.
If you would like to know more about Dr. Taleisnik please contact their office by visiting http://www.ataleisnikmd.com
or calling (714) 835-2825 today !