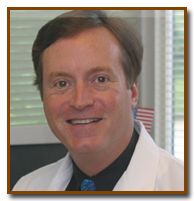 Dr. Edwin (Win) Pound III is the latest in a long line of Georgia doctors in his family.
He received his undergraduate degree at Duke University followed by post-graduate study at the University of Georgia and Georgia State University where he received his Masters in immunology.
A graduate of the Medical College of Georgia, Dr. Pound trained in general surgery at the University of Tennessee in Memphis where he also completed a fellowship in burn surgery. He then completed a residency in plastic surgery at the State University
of New York before returning to Atlanta to join his father in practice.
Continuing his father's tradition of quality medical care, Dr. Pound's interests encompass the entire spectrum of cosmetic and reconstructive surgery including breast surgery, facelifts, eyelid, nose, and ear surgery, collagen injections, body contouring with liposuction, hand surgery, and burn surgery.
Although Dr. Pound is an expert in many areas of plastic surgery, he is a world renowned expert in trans-umbilical breast augmentation (TUBA) and has performed the TUBA breast augmentation procedure more than any other plastic surgeon in the world.
Dr. Pound's patients feel secure knowing that he will take the time to explain aesthetician services or plastic surgery procedures fully and in terms that they can understand. They appreciate knowing that they can call his office at any time and their questions
or problems will be addressed directly by Dr. Pound rather than an office intermediary.
By performing most of his plastic surgeries on an outpatient basis, Dr. Pound can offer the patient considerable savings without compromising on patient care. This also allows his patients to recuperate in the comfort of their own home.
From the poverty-stricken child in a remote South American village to the Hollywood celebrity, Dr. Pound treats everyone with the respect and attention that he would desire for his own family members.
Here's what Dr. Pound had to say when we caught up with him for a brief interview:
1) Can You Start off By Telling Us Your Name.
Dr. Edwin C Pound III but I go by Win, as my father took the Ed (laughter)
2) How Long have you been practicing?
I have been in private practice since the 1990's when I joined my fathers practice. My father has been practicing since 1961 and we have been in the same office since 1976.
3) What made you want to become a Plastic Surgeon as opposed to being another sort of Doctor?
Really, I just grew up with it. Having a father who was also a plastic surgeon was definitely a huge factor. Also I get a great since of satisfaction from truly changing people's lives for the better.
Nothing is more satisfying than being able to help someone in need. I honestly get the most satisfaction from the work I do when I receive a simple thank you card from a little girl who was in a terrible car accident, or being able to offer my services to people in South America who have had cleft lips or are burn victims.
4) What have you been noticing in marketing trends for Plastic Surgeons over the last few years?
I've certainly noticed a huge shift towards internet marketing with an emphasis on social media.
5) What would you say has been the most effective marketing for your practice so far?
My most effective marketing is really word of mouth, we have been in business for such a long time and have such an extensive patient base that they will tell their friends or family members about their positive experience with us, which brings us new patients. Of course, sometimes this word of mouth is now sent through social media sites such as Facebook. In the past, we use to use the Yellow Pages, but those days are now gone with the internet playing such a huge role.
6) So far, would you say that the internet has helped grow your practice at a steady pace in comparison with previous marketing in the past.
We are starting to see results. Like anything else, it takes time to ramp up internet marketing efforts, and that's what we're doing right now. I anticipate more consistent results as we move forward.
7) What are you currently doing to stay ahead of the curve in terms of marketing?
We're trying to maximize our ROI with internet marketing by connecting with our patients via social media. It's a good way for us to answer any questions they may have and let them know their options. We can also show them what we can do through the use of videos.
8) I know that most Doctors that we talk to say that the Internet is the future of their practice in terms of marketing… Why do You think so many plastic surgeons are betting their practice on that today?
Because everyone has access to the internet and it is now a front line for gathering information and research when it comes to finding the most qualified, highest-quality plastic surgeon. Patients can learn all they want to know about what we can do for them at their convenience and in much greater detail than simply looking at a brochure.
9) What would you say is your five year plan for marketing your practice via the Internet? What are the technologies and services you'll be investing in to stay ahead of others.
Obviously, internet marketing is here to stay so we will continue on that path. It's a matter of spotting trends such as Instagram and using them to their best advantage. We'll see what's next and, if we determine it's something that can help showcase our results, we'll jump on it.
10) If you could give the other plastic surgeons that will be reading this article one piece of marketing advice that would help them get more patients…. what would that be?
Always treat patients like they are people. I have heard so many horror stories from patients that come in that have had terrible experiences with other surgeons who are more focused on profits as opposed to actual results and patient care.
We have always made sure that our clients feel like they are part of our family. In turn they have a wonderful experience and it has been such a contributing factor to our referrals that we get from our patients.
Thank you for your time today. I know the Audience of "I Love Plastic Surgery" is going to love this and that its really going to help a lot of them out doctors and patients alike.
Thanks Dr. Pound….
If you are in the Atlanta area and would like to contact Dr. Pound and his staff please visit http://www.winpound.com or call 404-256-1400