I Love Plastic Surgery Interviews Presents: Dr. Michael Marschall, M.D., F.A.C.S.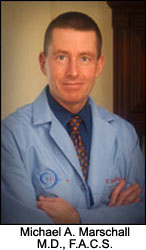 "Enhancing one's appearance rather than producing radical change is the key to successful, natural-looking results."
– Michael A. Marschall. M.D., F.A.C.S.
Dr. Marschall's skill and experience include the full spectrum of aesthetic procedures and reconstructive surgery with a special emphasis on breast surgery and correction of birth defects. Director and founder of the cleft lip and palate center at Central DuPage Hospital, Dr. Marschall is acknowledged for his surgical skill in pediatric plastic surgery. He is recognized for his work in facial aesthetic surgery and reconstruction as well as aesthetic breast surgery. His aim in reconstruction is not only to restore appearance, but make one feel whole again.
In practice since 1987, Dr. Marschall is committed to provide care with compassion and confidentiality, working together with patients to determine realistic goals and prescribe a course of treatment that is safe and provides long lasting results. As a faculty member in the Division of Plastic Surgery at the University of Illinois at Chicago, Dr. Marschall practiced in an academic environment for 7 years
We were fortunate enough to grab a few moments away from Dr. Marschall's schedule for an interview:
1. Can you start by telling us your name and provide me with your credentials.
My name is Dr. Michael A. Marschall, M.D., F.A.C.S. I attended medical school at the University of South Florida at Tampa. I did my general surgery there as well and after that came to the University of Illinois at Chicago where I did my plastic surgery training. After that, I stayed on staff at U of I and cook County Hospital for 6-8 years, and then transitioned into private practice. I have been in private practice for 26 years.
2. Do you have any affiliations with any of your local hospitals or does your office have a surgical suite?
My hospital affiliations are with Central DuPage Hospital and I also have a surgical suite in my office for local anesthesia cases.
3. So what made you want to become a plastic surgeon versus any other type of surgeon?
I think it offers a very varied selection of patients and techniques, perhaps more than other specialties. And in general, the clients that you're dealing with are happy patients – at least afterwards. Beforehand, they're generally happy people, and if you can make them happier by doing little procedures, then that's all wonderful.
4. What are the most common surgery cases that you see in your practice?
My two most common surgical cases would be breast augmentation and face lifts.
5. What is the most common question you get from potential patients before they go through their surgical procedures?
Most patients are concerned with the down time or post-surgical recovery time.
6. What separates you or truly makes you stand out in regards to plastic Surgery from your colleagues in the area?
Well, I think my approach is rather conservative. I don't try to go overboard particularly with facial-centric things. I think an overdone face lift can look very, very bad, and so I don't want to go there. In terms of the breast enhancement, again in general a conservative approach. Not going overboard; not promising too much; and aligning patient expectations both with the face lift and the breast augmentation component.
7. Are there any particular trends that you see taking place within the next few years within plastic and cosmetic surgery?
Plastic surgery is really kind of a cyclical thing. We go from pursuing things that were perhaps less invasive to pursuing things that are more invasive. I think right now we're maybe trending off the less invasive phase, and we're going to start maybe a more aggressive approach in terms of facelifts. So that would probably be the major thing. Aside from that, I think the techniques are pretty well refined.
8. What advice would you give your prospective patients that will read this interview prior to considering plastic surgery?
Well, most patients have been doing this already, but I would say do your research before you go see the physician. Have a decent knowledge of the procedure you're interested in; how it's done; the down time; what you can expect; what the possible risks are. As an informed consumer, when you hit the door, your consultation's going to be a lot better served and a lot more accurate.
9. What have you been noticing in marketing trends (how practices are marketed) for plastic Surgeons over the last few years?
I would guess the biggest one would be online presence in terms of web page, Facebook page, Twitter.
10. What would you say has been the most effective marketing-wise for your practice so far?
Word of mouth from previous patients because as you know I've been doing it a long time, so there's already a decent number of people out there. They talk to their friends and generate referrals.
11. If you could give another plastic surgeon or surgeon in general some advice if they read this, whether it be marketing or how they obtain new patients to build a practice like yours, what advice would you give them?
Maybe start out relatively small. Start out with honesty, and then go from there as your practice develops.
We truly want to thank you for your time today Dr. Marschall. I know the Audience of "I Love Plastic Surgery" is going to love this and that it's really going to help patients make a better decision regarding the choice of their surgeon and assist other surgeons in helping them market their practice as successful as yours.
If you would like to know more about Dr. Michael A. Marschall , please visit his website at http://pscod.com/Welcome.html/ or contact him at (630) 462-6858 for a free consultation.