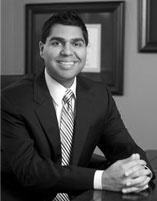 Dr. Mike Majmundar looks at his job as medical art. He concentrates on plastic surgery with the first area of your body people notice, your face, head, and neck. His medical art's purpose is to make the plastic surgery look as real as possible and never artificial. With a double board certified facial plastic surgeon certification, he is extremely trained and knowledgeable.
Dr. Majmundar has served as a clinical instructor in the Division of Plastic surgery at the University of New Mexico Hospital System. He was ranked as the top 6% nationally on the facial plastic surgery written board examination, graduated in the top 10% of his medical school class at the Medical College of Georgia, graduated Summa Cum Laude with a B.S. in Chemistry and Certificate in Biochemistry form the Georgia Institute of Technology, and was Valedictorian of his high school class.
Along with all these achievements, Dr. Majmundar has been named a Top Doctor by Atlanta Magazine, a National Top Doctor by U.S. News & World Report & Castle Connolly, and last but not least, a top Beauty Expert by The Atlanta, Best Self, and Northside Woman. 
Also a member of the American Association of Facial Plastic and Reconstructive Surgery, the world's largest association of facial plastic and reconstructive surgery of the face, head and neck, as well as the American Board of Facial Plastic Surgery.
So, we asked Dr. Mike Majmundar to take some time from what he loves to do to talk a little more about the realistic art of plastic surgery.
1) Can You Start of By Telling Us Your Name.
My name is Mike Majmundar.
2) How long have you been practicing?
I am on my 7th year of facial plastic surgery.
3) What made you want to become a Plastic Surgeon as opposed to being another sort of Doctor?
It began from the interest in cleft and pallet surgery which stemmed from a trip in India. I noticed a lot of kids in the poorer parts of India with clefts, and realized it was about an hour worth of time to take care of cleft and pallet problems. After that I developed an interest from there on. I had the opportunity to work with people in medical school who did cleft lip surgery and found myself in the plastic surgery realm. I really enjoyed working with cosmetic patients.
4) What have you been noticing in marketing trends for Cosmetic Surgeons over the last few years?
When I first started in 2007 people were just starting to make sure they had a website. Facebook was introduced and people had started realizing the value of email marketing, and the value of having a website. There was a huge increase in 2009 in the number of websites in cosmetic surgeons, email marketing, group-on, and living social. Soon, thereafter, 2009-2010, Facebook, Twitter, and other social media channels increased in marketing.
5) What would you say has been the most effective marketing for your practice so far?
Having patients write reviews on certain websites about my practice to get the word out there. Sites like Google, Kudzu, Yelp, and Real Self has been very helpful.
6) So far would you say that the internet has helped grow your practice at a steady pace in comparison with previous marketing in the past?
Yes, it has been more of a method of leveling the playing field against surgeons who have been in practice longer.
7) What are you currently doing to stay ahead of the curve in terms of marketing?
I just launched a mobile website. I am also focusing more on doing interactive things like Facebook, and continually manageing relationships with nearby spas and salons.
8) I know that most Doctors that we talk to say that the Internet is the future of their practice in terms of marketing… Why do You think so many plastic surgeons are betting their practice on that today?
Technology is driving everything today. It is a lot more convenient and good reviews make all the difference. I think that having the online presense with good reviews makes it easier to find a surgeon that you feel comfortable with.
9) What would you say is your five year plan for marketing your practice via the Internet? What are the technologies and services you'll be investing in to stay ahead of others?
I would have to say Facebook advertising.
10) If you could give the other plastic surgeons that will be reading this article one piece of marketing advice that would help them get more patients…. what would that be?
Make sure you have a good marketing team that helps optimize your website. Make it easy for people find you.
Thank you for your time today. I know the Audience of "I Love Plastic Surgery" is going to love this and that it's really going to help a lot of them out doctors and patients alike.
If you would like to know more about Dr. Mike Majmundar visit http://www.northsideplasticsurgery.com or contact 770-609-3114 for your free consultation.