DreamLabs Presents: Dr. Usha Rajagopal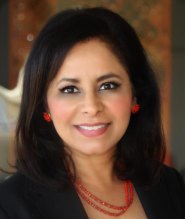 San Francisco Board Certified Plastic Surgeon Dr. Usha Rajagopal and her highly trained staff bring an integrated and  comprehensive team approach, along with women's insight and sensitivity, to the art of cosmetic surgery. Located in  beautiful Union Square, her practice-the San Francisco Plastic Surgery and Laser Center-is a Bay Area leader in cosmetic  plastic surgery of the face, breast and body. Dr. Rajagopal also provides the latest in cutting edge cosmetic dermatology  procedures, specialized medical skin services and state-of-the-art laser treatments.
 Dr. Rajagopal is known for the fact that she finds great pleasure in helping her patient's look and feel attractive, and  thus live more fulfilling lives, both personally and professionally."
 We are very fortunate today to have caught up with Dr. Rajagopal for an interview:
1.  Can you start by telling us your name and provide me with your credentials, how long you've been in practice and where you completed your medical training at?
My name is Dr. Usha Rajagopal and I have been a practicing Plastic Surgeon since 1995.  I attended medical school in Dallas at University of Texas Southwestern Medical Center. After medical school, I did five years of surgery residency at Parkland Memorial Hospital. I did a year of plastic surgery research at the University of Texas Southwestern Medical School, and then I did two years of plastic surgery at the University of California San Francisco Medical Center.
2.  Do you have any affiliations with any of your local hospitals or does your office have a surgical suite?
Primarily, we use an out-patient surgery center, but I am affiliated with St. Francis Memorial Hospital and California Pacific Medical Center. The outside surgery center is called Willow Surgery Center.
3.  So what made you want to become a plastic surgeon versus any other type of surgeon?
The reason I chose surgery was primarily because it was visual. We could see the problem, treat the problem, and then the problem's gone. So in plastic surgery, more of the same, but a little more of the aesthetic sense where you can look and correct and improve on things that are already or may be functioning also. So we do a lot of functional issues, but really more the visual aspect is what interested me.
4.  What are the most common surgery cases that you see in your practice?
It depends on the age of the patient, but generally, face it would be eyelids or nose; and in women it would be some sort of breast enhancement, either breast augmentation or a lift or a combination; liposuction/tummy tuck; also in men, a very popular procedure that I do a lot of is called gynecomastia; and then the last one that I see a niche, and I probably do the most in northern California is vaginal rejuvenation and labiaplasty.
5.  What is the most common question you get from potential patients before they go through their surgical procedures?
Most of the time they will ask me about my experience – how long I've been doing it and how many patients have I done or something in that vein.
6.  What separates you or truly makes you stand out in regards to plastic Surgery from your colleagues in the area?
I think I'm very good at what I do, not only with the surgery aspect but with the whole experience. I treat patients like my family, and I think that really stands out.
7.  Are there any particular trends that you see taking place within the next few years within plastic and cosmetic surgery?
I really see patients wanting more non-invasive things if they're available. For certain things, non-invasive is not available, but areas certainly in the face, I think it's gone a little more non-invasive than it was 10-15 years ago with the invention of Botox and fillers. People are able to look good for longer before having to go under the knife – along with lasers. They're able to look refreshed, younger, more vital, things like that. And I think that is a big thing. And then, now there are new procedures with non-invasive fat reduction, like with COOL sculpting. It's also called Cryolipolysis where you freeze the fat. So that has been out for a few years, and it's gaining popularity as people are realizing that it really does seem to work. In the future, something like that may replace traditional liposuction.
8.  What advice would you give your prospective patients that will read this interview prior to considering plastic surgery?
First, they need to be in excellent health before they consider the procedure. Second, they really need to do their due diligence and research about the surgeon that they're choosing – how well and how often they do this procedure. Maybe talk to patients and things like that, and then, obviously, come in for the consultation.
9.  What have you been noticing in marketing trends (how practices are marketed) for plastic Surgeons over the last few years?
Certainly in the Bay area, most of the research done by patients is on the internet, be it going to Google, generic search or paid search. That's the primary thing.
10.  What would you say has been the most effective marketing-wise for your practice so far?
For us, it's actually being high up on the Google search results because we've been doing it since 2000. So we're in the top three for most things. I think because we were here much before other people, I think that has helped. Just providing the service for a very long time has put us up front for many things without us having to pay for a lot of it.
11.  If you could give another plastic surgeon advice if they read this, whether it is marketing or how they obtain new patients to build a practice like yours, what advice would you give them?
Certainly, I think content is really important. It's not a one-time deal; it really is ongoing. They need to really be working at it constantly. And certainly with things like social media, I don't know how much of it is immediate, but certainly I think having a good social media presence. I think Facebook is more than even Twitter, but maybe even Twitter, and YouTube videos, I think those are really big also – especially when they're searching for your procedure. Testimonials are important as well.
Thank you for your time today Dr. Rajagopal.  I know the Audience of "I Love Plastic Surgery" is going to love this and that it's really going to help patients make a better decision regarding the choice of their surgeon and assist other surgeons in helping them market their practice as successful as yours.
If you would like to know more about Dr. Rajagopal please visit her website at
http://www.sfcosmeticsurgery.com/
 or contact her at (415) 392-3333 for a free consultation.